BigPack SAAB 9‑5 Automatic 02‑09, Blue hoses
Item number: 65-BIG-100-B

Product description
This is a self-designed performance intercooler and RIP-kit for SAAB 9-5 Automatic!

Significant advantages with do88 performance intercooler (OEM intercooler):
- Core volume: 11803cm3 (6379cm3), do88 is 85% larger.*

- Air flow at 0,15 bar / 2,18psi pressure drop: 268CFM (192CFM), do88 35% higher*

- Post intercooler air temperature at same conditions: 32°C (53°C), do88 21°C / 40 % lower.*

- Airflow optimized intercooler pipes with CNC-machined sensor fastenings.

- Special designed silicone hoses with 3-4 layers of armory for optimal fitment and durability.

- High quality, stainless hose clamps.

- Delivered with mounting instructions, screws, washers, nuts and everything necessary for an easy, straight-forward installation.

- CAD-designed, CFD-analyzed intercooler end tanks.*

- Airflow-verified in the SuperFlow SF-1020 flow bench.

- Fits all cars in list below!

* See diagram below.



This intercooler is constructed to deliver the best cooling efficiency during tough conditions. Exclusively manufactured in aluminum with continuous welds, it guarantees reliability and endurance when you really need it. The increased core volume improves cooling efficiency and lower the intake air temperature. Naturally, this being a do88 performance product, we have executed thorough, severe and continuous tests developing this product to ensure best performance. Not one compromise has been made. This intercooler is immensely optimized to the given space for an easy drop-in-fitment.

The 85 % increased and 40 % core volume is an achievement we are proud of. It´s a remarkable difference. Perceivable, to say the least. The engine pulls better all over the revs and withstands repeated full throttle runs without building heat. The perception of an intercooler being something to upgrade only after a major engine tune is false, yet widely spread among customers and car people. During hot Swedish summer days, at repeated pulls, inspired driving or even at ordinary driving in a hotter climate area, it doesn´t take much of an effort from the engine to generate dangerously high inlet temperatures – even on a standard, non-tuned, car. The cooling capacity with an OEM-intercooler is in many cases inferior which will affect the usable power outtake. The heat has to be eliminated, or else the promised output will be decreased as you start giving gas. With our intercooler you can rest assured the power is there, at all times.

The RIP-kit included in this BIG-PACK is manufactured from 2,375 " extruded aluminum piping, mandrel bent to desired shape. Compulsory for all of our RIP-kits is them being constructed with smooth radiuses, forgiving transitions and as big inner diameter as possible. All in order to achieve as high airflow as possible and reduced pressure drop.

This product comes with everything necessary for an easy installation, without the need for cutting or in any way changing the car´s original shape. Bolts, nuts, brackets and mounting instructions is of course included.

Included parts in this BIG-PACK:

Intercooler piping.
Silicone hoses, 4 pc.
Hose clamps, t-bolt, 5 pc.
Hose clamps, stainless, 3-4 pc.

Take notice! The BOV on the pictures are only there for illustrative purposes and is not included!



When ordering this BIG-PACK, there is choice that has to me made in the drop list above:

1. Color:
Choose what color you would like in your hoses – blue, black or red. There are no difference in performance between the three.

*If you have a year model 2001, check that the temperature sensor is screwed into the flange with 2 screws! If not, do contact us.



Fits:

SAAB 9-5
Year models: 1998-2009


Engine: All four cylinder turbo except V6 and Diesel. 2,0T/2,3T/Aero (B205, B235)
Does not fit cars with manual transmission. See separate product.

OEM reference:

4966735
4966701
5191770
7591936
This diagram shows the charge air flow at different pressure drops of do88 BigPack compared to OEM intercooler and pipes*: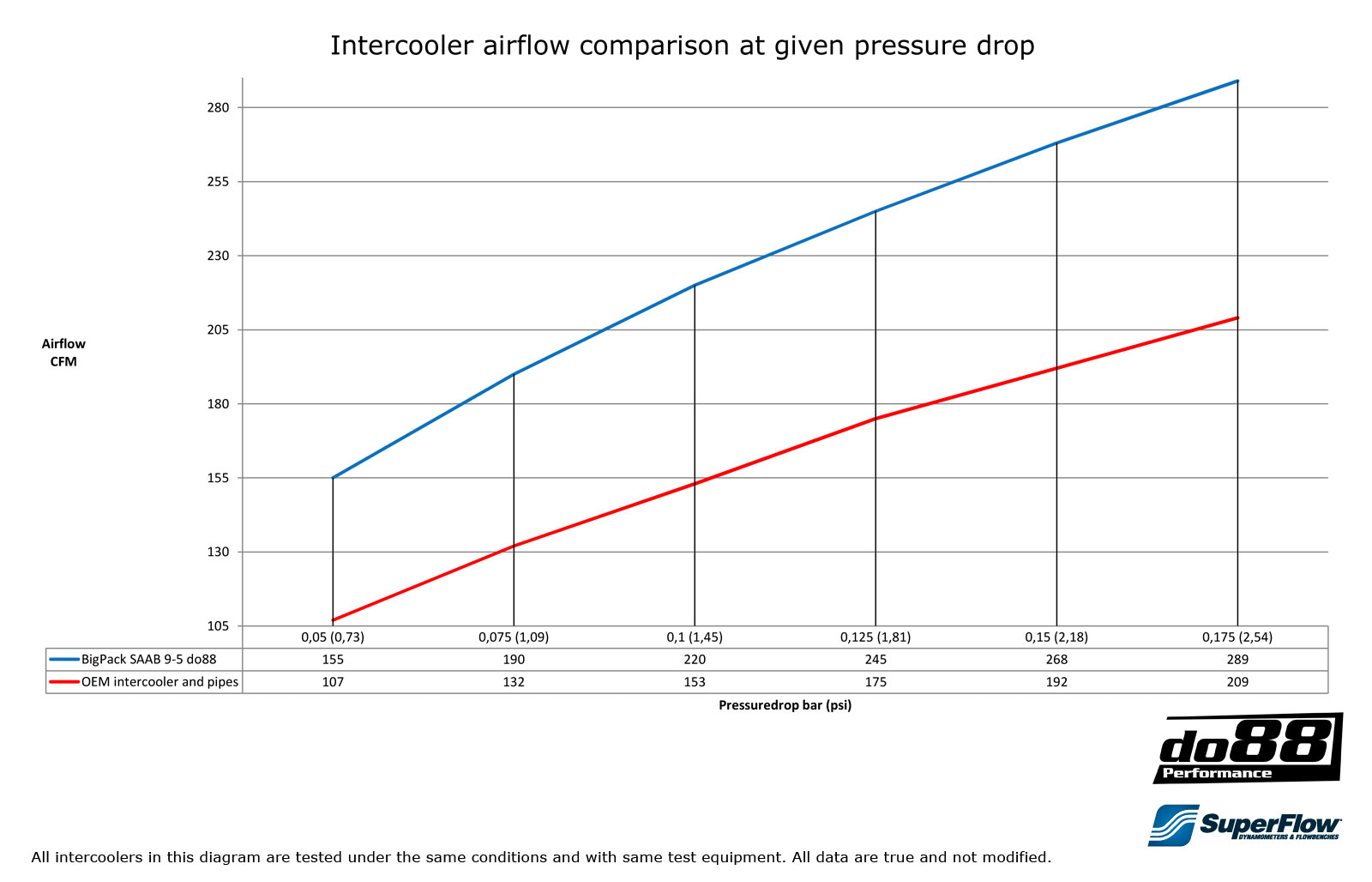 This diagram shows the charge air temperature post do88 performance intercooler compared to OEM intercooler*: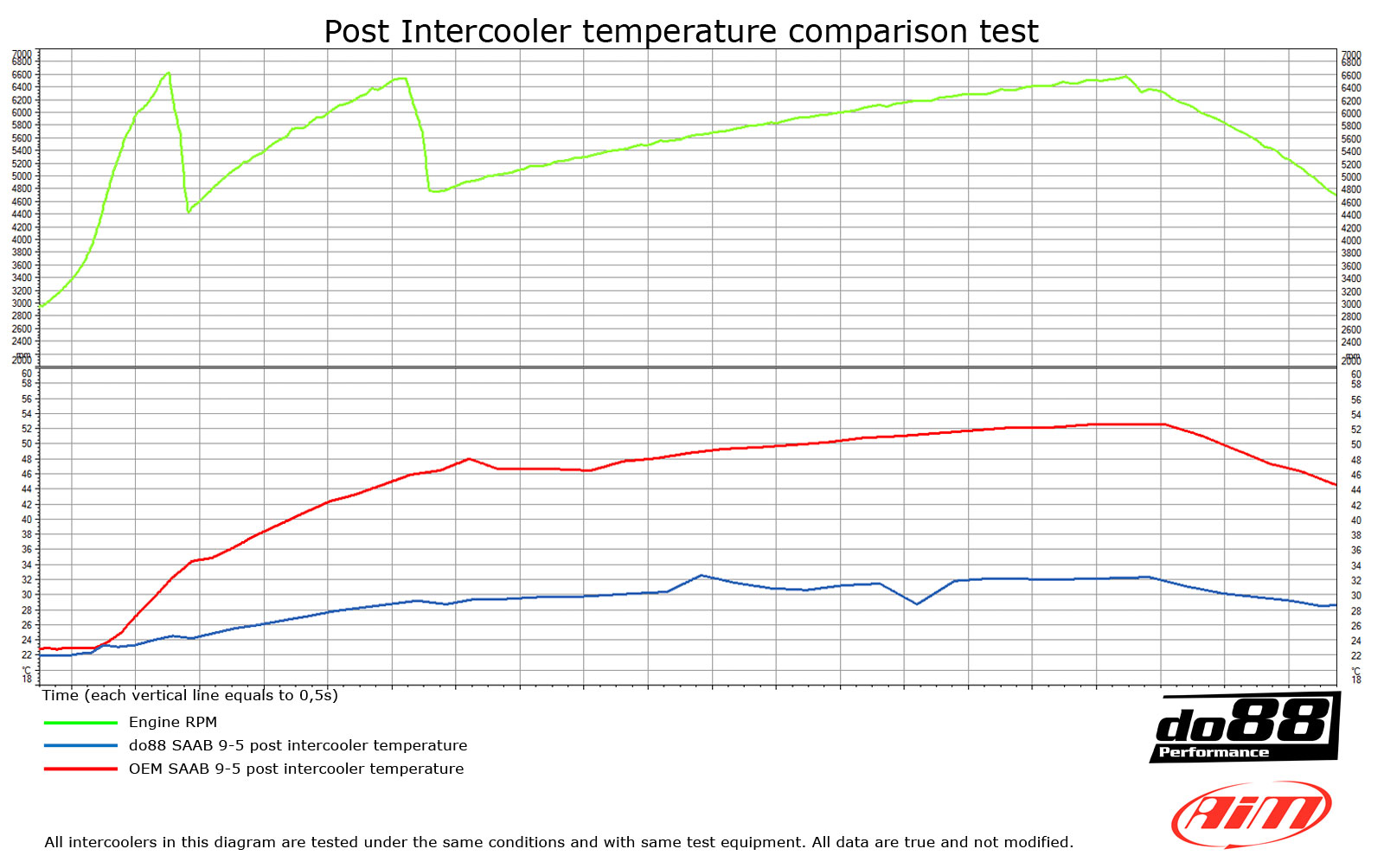 *All tests are performed with the same test equipment during the exact same conditions and is therefore valid for comparison.