SPEC friction plate 900/9‑3
Item number: SSD183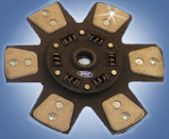 Product description
In short: Special clutch disc that can handle higher torque levels.
For whom: For 900/9-3 owners wanting to upgrade beyond stage 3 without having to replace pressure plate!
Details: 6 puck Carbon friction plate capable of handling higher torque levels with stock pressure plate. Provides better driveability and smoother clutch engagement than a conventional sintered friction plate and retains the light feel of the stock clutch pedal. Works with all 900/9-3 clutches. Torque capacity 500 Nm with Viggen pressure plate. 100% bolt-on.