SPEC friction plate 900/9‑3
Item number: SSD183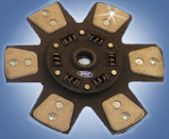 Not in stock
Out of stock
If you order this item, it will be sent to you as soon as we get it into stock again.

Notify me when the product will be in stock again!

Product description
In short: Special clutch disc that can handle higher torque levels.
For whom: For 900/9-3 owners wanting to upgrade beyond stage 3 without having to replace pressure plate!
Details: 6 puck Carbon friction plate capable of handling higher torque levels with stock pressure plate. Provides better driveability and smoother clutch engagement than a conventional sintered friction plate and retains the light feel of the stock clutch pedal. Works with all 900/9-3 clutches. Torque capacity 500 Nm with Viggen pressure plate. 100% bolt-on.
Reviews





0 reviews
Be the first to write a review