Porting job 550 Hp ‑>
Item number: RACETOPPT7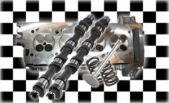 Product description
Higher topp effect and more torque at lower rpm compared with a original cylinder head. Porting adapted for power above 550 hp. stronger valve springs and stainless steel valves make it possible to reach very high boost pressures and a range up to 7.500 rpm
with correct adapted camshafts.



Leveled and washed

Stainless steel valves

new valve seals

Mira-made valve-seats/ fullrange seats.

Race porting of intake/exhaust canals.

New valve seats.

stronger valve springs


Original cylinder head sends to us for inspection and approval.